On the morning of Tuesday 11th April 2023, Community of the Passion member Lya Vollering set off from Canterbury to begin walking the 1,800km pilgrimage trail known as the Via Francigena, which has Rome as its destination.
Walking an ancient path to the future, Lya does so as an act of ecological witness in the midst of our climate crisis, to call attention to the urgent need to heal and care for the earth, our common home.
Here we share her ninth week of reflections on the journey.
Thursday 8th June: On Level Ground
After more than ten days of walking in the mountains, the sky is finally opening up. The heights are now behind me and it feels empty as a result. Although I complained about what felt like needless walking up and down the slopes, I do actually like the mountains. I am so pleased I got to see them with their snowy coverings.
On the eighth day of June I left the Aosta valley and entered the flatter Piemonte region to discover that the route went through a valley. Some of it followed the Dora Baltea River and some skirted the motorway and, further on, another busy road.
However, there were detours through small old villages. They were beautiful, with remains that spoke of their Roman past. It was very quiet though. I had expected the buzz of loud voices and dramatic gesticulation often associated with Italian folk, but there was none of that. I had hoped for a pleasant cafe with mouthwatering cakes but I didn't find that either. I did see a sign offering a stamp for pilgrims. I have never been a collector of things but I enjoy collecting these stamps and could already show off an impressive collection!
The man in the shop was married to a Brazilian woman and spoke a level of Portuguese that I could understand. It was refreshing to have a bit of a conversation that amounted to more than 'Buongiorno' and 'Grazie'. The man had enjoyed the time he had lived in Brazil. He had returned to Italy because of his (old) age and wanted be reacquainted with his roots. He didn't feel safe in Brazil. He said that there were too many there on drugs and he waved his arms around as he spoke. He added that Brazil had the worst president in the world. It was time to go.
A little further along the road I heard, 'Brava, brava!' An energetic Italian woman in her sixties greeted me with a big smile. She was on her way to visit her sister and we walked together for a while. We communicated with a mixture of Spanish, Italian and English. But our communication was facilitated most of all by her openness. We shared our love for walking. According to her, Italians don't like walking very much. She loves cycling up and down the mountains too, a love I don't share.
Entering the Piemonte region, the vegetation changes. I have seen palm and fig trees and a lot of small vineyards. Here, though, they allow the vines to grow tall and then form beautiful arches, sometimes over the footpath, thereby creating a welcome shade.
Today, I have made peace with the fact there is still a long journey ahead. I am still not sure what this journey is about and I wonder if calling this journey an 'ecological witness' is too pretentious. Anyway, I do my best and walk with the palms of my hands facing upwards…
Friday 9th June: A Pilgrimage for Change
Two messages concerning the effects of Climate Change in other parts of the world reached me today. My Dutch friend Brigitte had visited Kenya as part of her job. Kenya has been suffering from drought for the last two years. She visited the national park where she remembered seeing on a previous visit thousands of water buffalo. This time she didn't see any at all. Only their carcasses that littered the landscape. People there are moving to the city because they can't grow their crops anymore. Climate refugees are a reality.
Some friends from the Northeast are on a family visit to Canada. Chris wrote this message:
'We are staying in High River, 30 miles or so south of Calgary in Alberta. This is the fossil fuel centre of Canada and is also famous for its beef. Explaining to locals the reason why we are vegetarians brings some puzzled looks!
Now to climate change – normally, if you look west, you can see the Rockies on the horizon about 100 miles away. This year they are visible but through a haze, caused by air pollution from the wildfires raging to the north and east. Two weeks ago, people in Calgary were advised to stay indoors due to the pollution, although it has improved since then. It's been a dry Spring and they are desperate for rain. Down the east coast, the fires are worse and the pollution has spread into the USA.
So climate change is real and is impacting on Canada but the economy is driven by Alberta oil and gas. How Canada navigates away from fossil fuels in a just transition is the same issue that all countries are facing'.
I will finish with a quote from Thomas Berry: "We will go into the future as a single, sacred community or perish in the desert"
These messages were on my mind while I walked from Borgofranco D'Ivrea to Ivrea. Upon reaching the town of Ivrea, I was distracted by a big Lidl store. Food! Later, I was distracted by a lady who was beckoning me to come to her. She had a stall with information about the Via Francigena and was keen for me to fill in a two-page questionnaire. I can't remember all the questions but it left me with a sense that the VF is understood as a useful way to attract tourists. For example, one question concerned how much money I was spending on overnight stays and food on my travels. The lady was keen to have my photo with the VF logo.
I struggle with the commercialisation of a pilgrim route. At the same time, I see how many people are interested in a pilgrimage and often have a question or two about it. A lot of recently retired people are walking the VF. One of them said to me: 'My question is what now? I want to do something special with my life'.
Reflecting on this the idea came to me of setting up a pilgrim route around themes of Laudato Si', so that pilgrims are given the opportunity to visit beautiful places where people try to make a difference but also places that harm our planet, its peoples and its creatures. The pilgrimage would aim at giving opportunities to reflect, connect and campaign. It would offer simple accommodation that is sustainable in its many layered meaning. I'm not sure if it is only me, but it is the simple lifestyle that gives me such joy. I think that this is the case for many of my fellow pilgrims. How can we capture this so that it is not just for a couple of months and not just for an individual but is something that has long term effects? Can we contribute to the creation of one sacred community?
Saturday 10th June: Old Friends, Dull Landscapes & Deteriorated Shoes
They are here in great number, swirling around the high church tower. The swifts! They have made my day.
The weather was dull, cloudy and humid as I arrived in Santhia. The landscape matched the weather! It reminded me of Northern France, only with a warmer climate: a flattish landscape with grassland, mono cultures of wheat (yellow and ripening here), corn, soya and sunflowers (not yet in bloom). The lack of trees is very noticeable. Another thing that reminds me of France are the many signs saying, 'proprietà privata'. I didn't see them in Switzerland.
I am also aware of how beautiful the Aosta region was – so green, with so many woods and then the mountains, of course. Beauty, however, is always found somewhere, including in the enormous bumble bee that came to visit me while I was having my brunch. There are still wild wonders, though not as abundant as before. I am also enjoying the Italian creativity, from large hand painted images of Walt Disney's 'mermaid' on the city hall to signposts with the different distances marked on them, even telling you how many kilometres it is to the moon!
I overdid it last week. In five days I walked 140 kilometres. Now my right foot is hurting. My latest pair of shoes haven't been very good. They have deteriorated in just three weeks. I will have to take time out to look for yet another pair of shoes. It is all part of the journey and a learning experience.
While I am writing this, lying on my bed, I hear the swifts making their high-pitched sounds. Hospitality has been provided by friends of the Via Francigena. They have made a lovely apartment on the top floor available for pilgrims on a donation basis. It feels good to be staying on the same height as the swifts.
Sunday 11th June: Pilgrim Habits and Italian Rice
At 6.15am, I was sitting at breakfast in 'hospitale Sancti Eusebi' in Vercelli with Lynn from Australia and Nelke from the Netherlands when another pilgrim, Ellen from Nottingham, asked us what habits it is helpful to maintain whilst on pilgrimage.
Lynn explained that she is making this pilgrimage for her five deceased siblings. Nelke said that listening to your body is really important to ensure that you don't get too tired. In response, I added that walking part of the way on my own helps me to connect with and relate to the surrounding environment and to communicate with her. I also realise that the morning practice of the prayer of gratitude is very important to me.
Then the subject turned to climate change. One pilgrim said that we need to educate children better about this issue. That really frustrated me. I think we need to educate the politicians and the those in charge of the big companies to think of the common good and the well-being of all (including the earth) instead of being focused on personal gain and profit. We need a systemic change because we can't have healthy people on a sick planet. I asked a Swiss pilgrim, a retired teacher, with whom I had a conversation on the St Bernard Pass, if he missed teaching. He said that he didn't, adding that mental health problems amongst young people have increased so much, making teaching much more difficult. The conversation combined with the strong coffee ensured that we were fully awake by 7am!
This 'hospitale' is outstanding in its hospitality. It is run by the friends of Via Francigena and the Pilgrim Association . Two volunteers do week-long shifts to facilitate this hospitality. On duty this week are Rolando and Lucine. The policy is to put two volunteers together who don't know each other well. Another requirement is that they have walked part of the VF or the Camino a Santiago so that they understand the needs of pilgrims.
Rolando cooked the evening meal with local grown rice. I never knew that rice is grown in Italy. Seemingly, they have been growing it in this region for the last six centuries. Last year, this area suffered from a severe drought caused by climate change and lost 30% of the harvest. This year, as I write, the fields are still flooded but the picture looks more hopeful. The rice fields provide a good habitat for ibises. There were quite a few of these long-legged wading birds to be seen.
When I was reading about the background of the cultivation of rice in Italy, I can across an article about women in World War II. They would weed the rice fields and were an important part of the resistance movement.
I had met Lynn on Saturday in Santhia and we had walked the difficult stretch from there to Vercelli together, journeying amongst the rice fields and the mosquitos. The heat of the sun and the absence of trees to provide shade made it difficult. To shorten the route, we walked parts of it along the busy tarmac road. At the edges, the tarmac was crumbling and grass had started to grow there. I love to see how nature takes any opportunity to assert herself! Even along the ugly busy road there was beauty to behold. It was there that I spotted some black damselflies. Lizards crossed my path too. I still hear the cuckoo occasionally, but no longer the skylark. In Vercelli, the swifts have found a home too in the many high towers there.
Felipe from France joined us for our evening meal. He has been travelling for two years and recently began the Via Francigena. It was his birthday. On his travels, he had found a birthday candle in the shape of a figure seven. Rolando had baked an apple cake and the candle was placed on it and lit. We all sang 'happy birthday'.
I have noticed, so many times, that as soon as strangers gather around a table and share a meal there is a sense of community. It is great that Rolando and Lucine have facilitated this. It gives the pilgrimage an extra special dimension.
Monday 12th June: Rain and Uniform
After days of blue skies with sun and heat the rain came. It kept falling, creeping into my socks and shoes and soaking my trousers. I was walking from Vercelli to Robbio, crossing over a dyke that ran through the rice fields. It's just as well it was a dyke and not a small path next to the rice paddies as they were flooded. The rice farmers are probably grateful for the rain. The pilgrims less so.
In between the rice fields are small plantations of lime trees planted in neat rows. They remind me of a school assembly where the children have to appear in uniform and sing the national anthem. Uniform in their uniforms! In the same way, the trees are forced to grow uniformly. Some had been logged or should I say harvested? It looked dreadful. Very deep tracks made by machinery in the soft ground. All the trees had been cut down and gathered in a heap. On the road there was spilt oil. There are better ways of doing things…
Robbio is a small town and looks rundown. The community accommodation looks tatty too. A note in four languages states that they are aware that this isn't the best accommodation but this is all they can offer at the moment. I found that rather sweet. I am so grateful for this dry place with a bed and a bathroom.
I appreciate the opportunity to see more of Italy than just the beautiful and touristic places. I love the simple cafes where the workmen in their wellies and patched trousers come to down a quick espresso. Berlusconi has died. All I could see on the television in a local cafe is how he is praised and celebrated. There is nothing about the many scandals in which he was involved.
The weather forecast for tomorrow looks better. Let's hope for a fresh and dry start.
You can follow Lya's weekly updates here.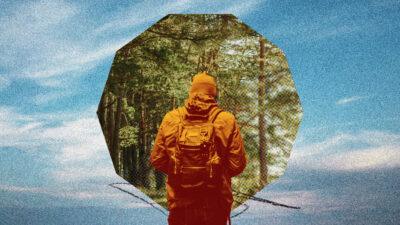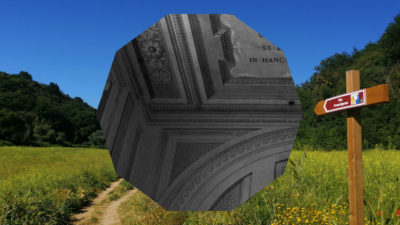 Thanks for following Lya on her journey along the Via Francigena to Rome. Here she shares her reflections on the final week of her eco-pilgrimage.
Jul 18 2023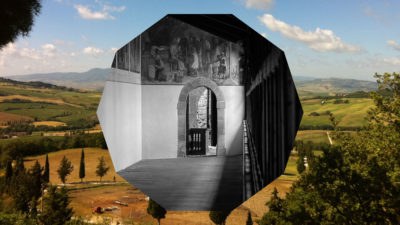 Lya Vollering details her thirteenth week walking along the Via Francigena, through Italian towns full of history.
Jul 11 2023